Get Well Natural LLC
Get Well Natural LLC, Las Vegas, NV
Click Here for All Natural Dietary Herbal Supplements
Get Well Natural LLC provides medically advanced all natural herbal dietary supplements that support and enhance your health and well being.
In 2008, Dave Leong, General Manager of Get Well Natural, contacted Off Media for development and implementation of a brand new shopping cart driven ecommerce web site for their existing online store.
Choosing to implement a shopping cart solution from Network Solutions' Monster Commerce, Get Well Natural has created an online resource for holistic healing through herbal dietary supplements that is easily manageable and portable.
Off Media provides holistic online internet marketing including Google adwords campaign creation and management, pay per click campaign creation and management, web design and development, content landing page copy writing, content optimization, search engine optimization, link building and more…
Bass Lake Realty
Bass Lake Realty Inc., Bass Lake, California
Click Here for Bass Lake and Yosemite Area Real Estate Listings
Bass Lake Realty Inc. is Bass Lake's premier real estate brokerage providing full real estate services for buyers and sellers, rentals and vacation rentals.
Off Media provides full blown holistic online marketing for Bass Lake Realty including Search Engine Optimization, Adwords and Pay Per click campaign creation and management, content optimization, search engine optimization, content copy writing, email marketing, vacation rental search and online booking application, idx mls search and user accounts application, link building and more…
McKee Construction & Remodeling LLC
McKee Construction & Remodeling LLC, Tucson, AZ
McKee Construction and Remodeling of Tucson Arizona provides a satisfied clientele with full service construction and remodeling for the Tucson area, from large commercial projects to luxury Tucson bathroom remodels. When Jesse McKee started his own company, he needed web marketing that was complete and worry free. Like all of Off Media's clients, Jesse doesn't want to worry about the web, he just wants to focus on business. So he contacted Mark at Off Media to get going.
Off Media provides Jesse with full content marketing including writing copy, web site design and development, blogging, social media, graphic design, adwords campaigns and more.
Click Here for Construction & Remodeling Tucson
Pismo Coast Realty
Rick Allen's Pismo Coast Realty
Having spent some adolescence in the Pismo Beach area this product was particularly exciting to undertake. Rick Allen of Bass Lake Realty fame, branched out to the Central Coast Pismo Beach area opening his own brokerage right smack in downtown Pismo Beach just a block from the pier in January of 2013. The mood is coastal, and the sky is the limit.
Rick is specializing in vineyards and wineries and beach area homes. Covering Paso Robles on down to Solvang and all areas, there are plenty of vineyards available for aspiring or seasoned vintners. The beach home challenge is to connect folks with premium beach are homes with an expert to help folks every step of the way. Rick works with Off Media as a Bass Lake Realty agent, so he knows Off Media can provide everything he needs to launch and operate Pismo Coast Realty online.
Off Media provides Pismo Coast Realty with full content marketing including writing copy, Studiopress Agentpress customized WordPress web site with iHomeFinder's awesome Optima Express IDX integration plugin. Off Media also provides blogging, Youtube, social media marketing made easy, search engine marketing with Google Adwords and Bing Ads, local listing optimization and on.
Steve Getzwiller's
Nizhoni Ranch Gallery
Superior Unsurpassed Navajo Rug Weavings and Art
Steve Getzwiller is THE world wide acclaimed authority on Navajo Rug Weavings and has been for many years.
Steve's Nizhoni Ranch Gallery has long been the place to find Navajo Indian Art and unsurpassed historic and contemporary Navajo weaving. His unique relationships with Navajo weavers and their commissioned works are world renowned for their incredible beauty and warmth. Steve has been and continues to be a major advocate and works for the preservation of all things Navajo and Native American Indian.
Steve and Gail wanted all of the benefits of a clean easy to use site, to simplify and enhance their customer's and users' experience while better communicating the benefits of the Nizhoni Ranch Navajo Weavings and works of art. They also wanted to keep and preserve their hard earned search engine rankings.
So Steve and Gail got a hold of Off Media and off they went.
The result is a breathtaking easily navigable site that cuts straight to the heart of everything great about Navajo Art, and Navajo Rug Weaving in particular. It's absolutely fascinating to watch these incredible works of art spring into begin in the Looming attractions section, meet the weavers, and simply take in the awe inspiring beauty of these works of art.
Charley's Navajo Rugs
Charley's Navajo Rugs, Hanford, Ca
Navajo Rugs & Saddle Blankets For Sale
Charley Castles of Hanford California started his Navajo Rug collection a few years back.
Collecting Navajo Rugs and Navajo Saddle Blankets became a passion. Over time, he built up quite a collection of Navajo Rugs and Navajo Saddle Blankets.
So Charley decided he wanted to get into buying and selling online. When he was ready he turned to Off Media for help.
He wanted a simple direct and easy to navigate site that would help fellow Navajo Rug enthusiasts learn about Navajo Rugs and Saddle Blankets as well as be able to purchase them online
Navajo Rugs & Saddle Blankets For Sale
Siesta Key Boat Rentals Turtle Beach
Siesta Key Boat Rentals, Turtle Beach, Siesta Key, Sarasota Florida
Turtle Beach Marina LLC
8865 Midnight Pass Road
Sarasota, Florida, 34242
Rather remarkably, Turtle Beach Marina LLC had somehow managed not to be on the internet as late as this year, 2012!
Off Media was hired to develop their web site and start their web marketing and optimization for search engine visibility, and more importantly customer visibility.
Turtle Beach Marina Siesta Key Florida has gone from non-existent to #12 in Google in 5 weeks. The site continues development of content and optimization as well as adwords campaigns.
Online booking requests are also available.
www.TurtleBeachMarinaSiestaKey.com
Bass Lake Water Sports
Yosemite Bass Lake Activities Inc., Bass Lake, California
Click Here for Bass Lake Water Sports, Bass Lake California Boat Rentals
Bass Lake Water Sports is the only full service marina directly on Bass Lake.
Off Media provides Bass Lake Water Sports web design, web marketing, online booking application, search engine optimization, adwords and pay per click campaign creation and management, content optimization, copy writing, email marketing and more.
Crossroads Recycled Lumber LLC
Crossroads Recycled Lumber LLC, North Fork, Ca
Reclaimed Wood Timbers and Lumber
Crossroads Recycled Lumber obtains reclaimed wood and then remills or resaws the wood into new and beautiful timbers, flooring, siding and all types of lumber.
Working closely with Off Media, Marc Mandel turned his vision of a better world into a brand new web site that truly communicates who and what Crossroads Recycled Lumber is and does.
With Off Media, Marc has also recently launched his green blog about his passion saving the world through responsible behavior.
Pacific Northwest Timbers LLC
The sister company of Crossroads Lumber, Pacific Northwest Timbers LLC is Marc Mandel's latest reclaimed wood venture, only this time in the Pacific Northwest located in Port Townsend, Washingtion.
A long time client of Off Media's, Marc naturally turned to Off Media to launch their web efforts. Pacific Northwest Timber's Seattle area reclaimed wood web site was launched quickly and painlessly pulling some ideas and content from Crossroads but with its own distinct flavor.
Marc realized that he wanted the PNT folks to be able to make quick edits to the site, so Off Media installed the WordPress content management system for easy content and SEO management, whoever may do it.
www.PacificNorthwestTimbers.com
La Cabana Mexican Restaurant
La Cabaña Mexican Restaurant, North Fork, Ca
Authentic Sophisticated Mexican Cuisine in the Heart of California
Sophisticated Mexican Restaurant conveniently located near Yosemite National Park, Bass Lake and Oakhurst located in North Fork, California.
La Cabaña is owned and operated by Miguel and Patricia Arcé.
Colorful, simple and to the point their web site serves as easy access for directions and menus as well as pulling optimized traffic from Yosemite area and Bass Lake internet searches.
Be sure to sign up to get updates of weekly dinner specials.
www.LaCabanaMexicanRestaurant.com
Don Fernando's Marshall Station
Don Fernando's Mexican Restaurant and Cuisine Located at Marshall Station, Clovis, California
Miguel Arce's brother Fernando Madrigal has been running Don Fernando's for many years. Miguel and Fernando both have worked in the restaurant industry for decades.
Fernando's has been located in the heart of Clovis, over at Mono Lake and are now technically back in Clovis but located out of town on 168 in the historic Marshall Station location.
For a simple clean web site Fernando called Off Media. They are getting ready to take further steps in their web marketing efforts.
www.DonFernandosMexicanRestaurant.com
Eastern Madera County
Fire Safe Council Inc
Eastern Madera County, Fire Safe Council North Fork Ca
Fire and Life Safety
On the ground projects, education and outreach bringing fire safety and awareness to all of Eastern Madera County.
Formed in the late nineties, when Bob Buckles took over in 2002 he turned to Off Media for an online presence to share the projects and fire preparedness of the Eastern Madera County Fire Safe Council, Inc.
Off Media provides ongoing web site management and updating for the Fire Safe Council.
Firewise Madera County CA
Firewise Communities USA
The National Fire Protection Association (NFPA) created a home safety program called the Firewise Communities USA Recognition Program. This was directly in response to recognition of the fact that wildfire in the wildland urban interface (WUI) was fast becoming a national problem. The overall program aims to teach homeowners about the "home ignition zone" and how to "harden" this zone against wildfire. The recognition program is meant to recognize communities that undertake these steps on an ongoing basis.
When fire safety consultant Roger Maybee was hired by Madera County to coordinate Eastern Madera County outreach and education for the Firewise program, he contacted Off Media to provide online marketing services.
Phase 1 was completed in 2012 with the creation of https://FirewiseMaderaCounty.org/ for an easy to use informative online presence for the program.
Off Media provides Firewise Madera County with writing and web marketing services to facilitate the program. There are plans for more content and more interactive tools for home owners.
https://FirewiseMaderaCounty.org/
Angels Roost Quilts
Angel's Roost Quilts, Front Royal, Va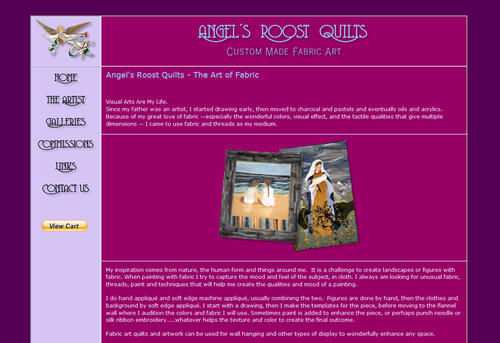 Custom fabric art pieces of exquisite materials and workmanship by Carol Spalding.
Harmonic Healer
Harmonic Healer North Fork Ca
Harmonic Healer is the creation and business of Michael Freemire, the Harmonic Healer™.
The name is a reference to sound healing which is a form of vibrational healing of the human body.